Whether you like it or not, every business has a brand and it has the potential to be one of the strongest assets you own. Your brand represents everything your business does and is the impression people have about your brand. For that reason alone, it is vital to nurture your brand and make it a priority. Your brand should convey what you do, what you stand for and what makes you unique. This collection of interlinked attributes essentially give your business its identity.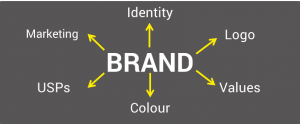 Now caring for a brand is often easier said than done. I'm afraid to say it but there is a lot to consider and a lot of work required. Putting your logo on all your marketing materials or using the right pantone is a step in the right direction but it simply doesn't cover it – building a good brand takes time. Strong, consistent branding reinforces your identity and creates a positive sentiment. This can only be done though by aligning the look, feel and tone of voice throughout your brand messages.
But why is it so important?
Consumers trust brands that they recognise and can get to know of a more personal level. We all know that making a purchase is more of an emotional decision than it is a practical one. John Lewis is one of the UK's favourite household brands and it is all down to their strong brand identity. The brand resonates and this has allowed customers to connect with the brand. As a result, this has implanted a real sense of loyalty and trust for the brand.
We buy the same brands because we know what to expect, feel at ease purchasing and know we like the product. This same concept can be carried across all our marketing channels to ensure there is a seamless look and feel on all our customer touchpoints. Consumers will feel more comfortable with your brand and are more inclined to become a lifelong customer.
'Just Do It' is one of the simplest, most recognisable slogans of all time and is a line that Nike has used for the past 15 years. Compare this with major competitor Reebok though who has changed their slogan 14 times since 1988. Nike's strong branding has enabled differentiation against the competition as it has allowed people to identify Nike's products and services at a glance. And it seems Nike's consistency has paid off as it is now the global market leader in the sports shoe market. Consistency goes far beyond a slogan or a logo though.
Consistency Equals Dependency
Whilst a CMO may have the final say on what marketing content is released, it is at that point that they lose all control. With the array of social media platforms, review sites and blogging sites, customers can constantly talk to each other and share their opinions (both positive and negative) about your brand. People love telling others about the brands they like and this can very easily sway another person's opinion. Strong brands create followers who are not shy about sharing their stories and these endorsements are extremely important in building a brand's trust factor.
Coca-Cola is an outstanding example of how brand consistency increase company value,
Without brand consistency, you lose the ability to cut through all this noise and position your brand positively in the consumers' minds. Consistency across all your marketing channels and customer touch points is essential as brand inconsistency immediately leads to poor brand experiences.
Consistent branding doesn't mean that all your communications should look exactly the same, far from it in fact. But it does mean you should strive for cohesion by sticking to a set of visual standards that can be developed through your brand guidelines. Keeping your visual identity consistent will help effectively distinguish and give your brand recognition. As a result it creates the 'desirability' factor for existing and potential new customers, supporters and stakeholders.
Written by Liam Beauchamp for Burst Digital – 09/05/2016
---
Burst Digital
We can help control your brand consistency through a dynamic asset management portal. Brand Centurion allows business with multiple locations a portal to access, create, monitor and print their latest marketing assets quickly and efficiently. This includes everything from posters to leaflets, business cards to digital assets. Brand Centurion can maintain your brand consistency; prevent costly mistakes, save money in reduced design and artwork time and enable you to order your branded print marketing materials instantly.

Ready to up your marketing game? Talk to us today!